---
Quick Summary
Pros
Legitimate method.
No limitation on earning.
One of the easiest methods, just click on the ads.
Beginner friendly method.
No tech skill needed.
CPC (Per click earning) is quite high ($0.01- $0.02).
Referral commission can be earned.
Various payout methods like PayPal, Bitcoin and Bank Transfer.
Cons
Minimum withdrawal limit for Silver & Gold membership is $50.
To unlock the full potential of earning, monthly membership upgradation is necessary.
Clicking ads is necessary on daily basis to earn from the quota of ads.
Does Star-Clicks sound right for you?
---
Earning money online just by clicking ads, that too, with a rate of $0.01 per click!? Yes, you read that right. It's absolutely possible with Star-Clicks. Now, you must be wondering how right? Just keep reading ahead till the end of the article to get the ins and outs.
What is Star-Clicks?
Star-Clicks is a legitimate online advertising network registered in the UK. It connects the Advertisers and Publishers by providing advertising facilities to Advertisers, and Ads Publishing and money-making features to Publishers. You can sign up with Star-Clicks either as a publisher or an advertiser.
As a publisher, you can make money. And as an advertiser, you can promote your websites to drive traffic to your website, and boost SEO performance by placing ads on the Star-Clicks platform.
How to Make Money with Star-Clicks as a Publisher?
To start making money with Star-Clicks, you have to sign up as a publisher.
You can make money on Star-Clicks by clicking on ads and viewing them. Moreover, you can earn referral commissions by referring people to join Star-Clicks. The earnings will be as per followings
$0.08 per sign up
$5 per gold package upgrade
$10 per platinum package upgrade
You can also earn money by placing HTML code ads on your website/blog (if you have any). But, the only condition is that you have to upgrade your account for getting access to HTML code ads.
By default, you get signed up as a Silver member. However, you will learn in detail about Star-Clicks memberships in the next section.
Does Star-Clicks sound right for you?
Creating a Star-Clicks Publisher Account
So, as you have got an idea of Star-Clicks and it's working, let's create an account with the following steps
Step 1: Visit the website
Go to Star-Clicks.com and click SIGN UP.

Then, hit Publisher Sign Up button.

Step 2: Fill in the details correctly
Fill in all the details correctly. This step is very important. If you enter false information, you won't be able to rectify it again in the future. And if you get caught, it may lead to the permanent ban on your account.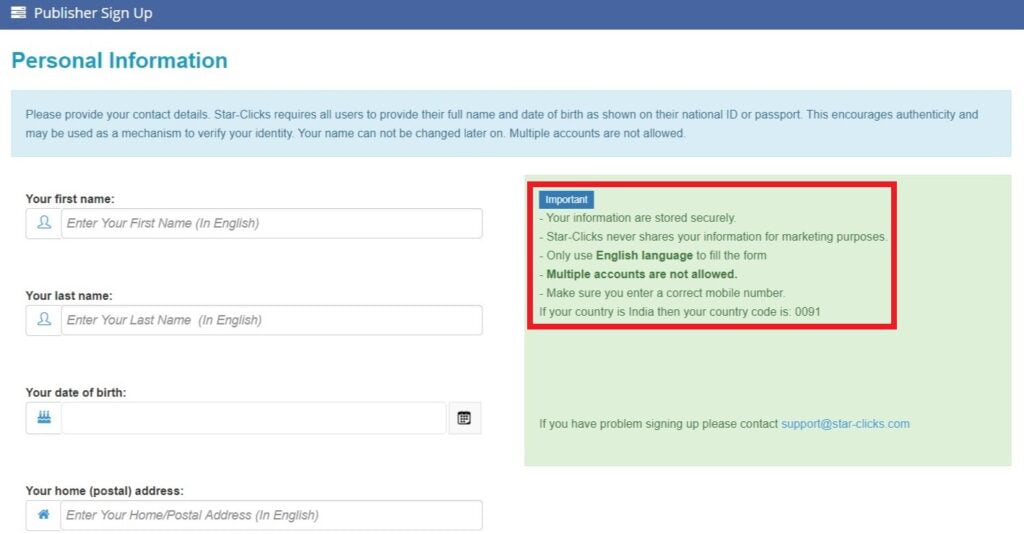 After filling in all the fields, hit Submit. Then, wait until the account creation is complete.
Step 3: Activate your account
Now you have to activate your account via email. Hit the Send Activation Email button.

Then, you will receive an email from Star-Clicks containing the activation link. Now, click on the Activate Account Now.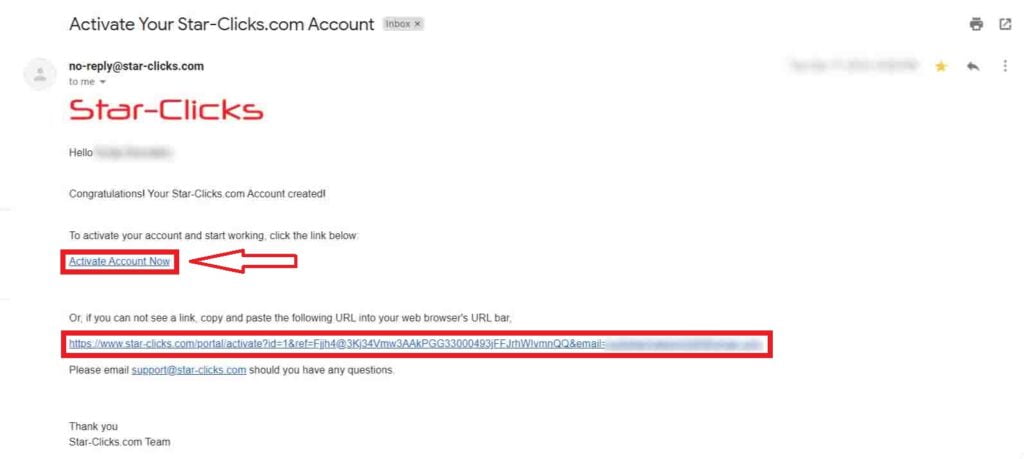 You will be prompted to a webpage asking you to log in to your account. Now, log in to your account by entering your email and password. After that, you will be introduced to the different options in your account dashboard.
Step 4: Verify your mobile number
Now, you're in the final step of account creation. In this step, we're going to add and verify a mobile number. For doing so, click on the Phone Verification option on the left sidebar of your account dashboard.

You will be prompted to a page like this one below. Select your country, and enter your mobile number, and click on the Send Me Verification Code button. Then, you will receive the code to the mobile number you entered. Enter that code in the Verification Code field, and hit the Verify button.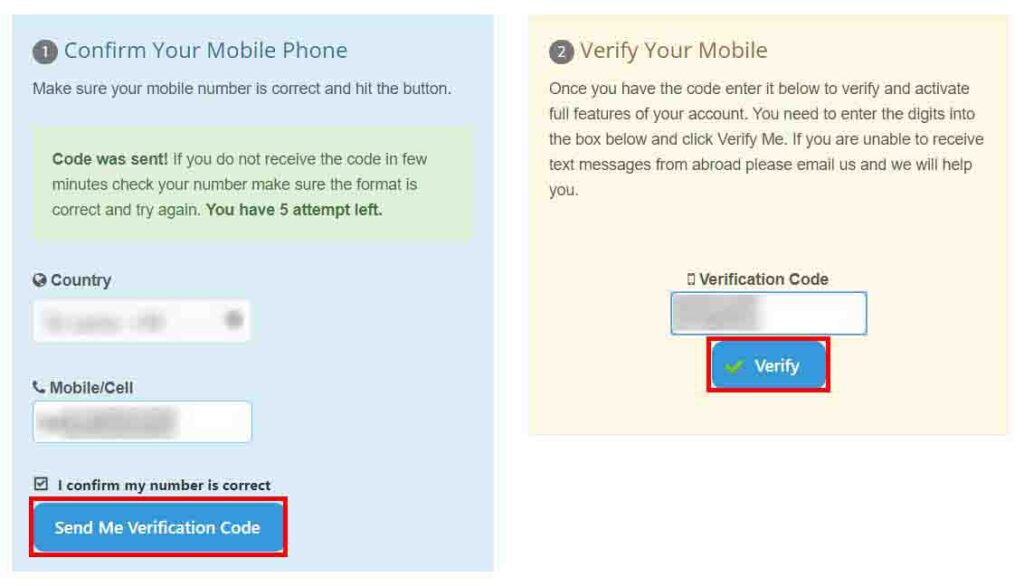 Congrats! Now you have successfully created a verified Star-Clicks account.
Does Star-Clicks sound right for you?
How to Click Ads and Earn?
In Star-Clicks, you will get your daily quota of ads to click depending on the level of membership (Silver, Gold, or Platinum) and make money. After logging in to your account, click on Pay Per Click Ads on the left sidebar and hit PPC Ads in the dropdown menu. You will find a list of ads to click on.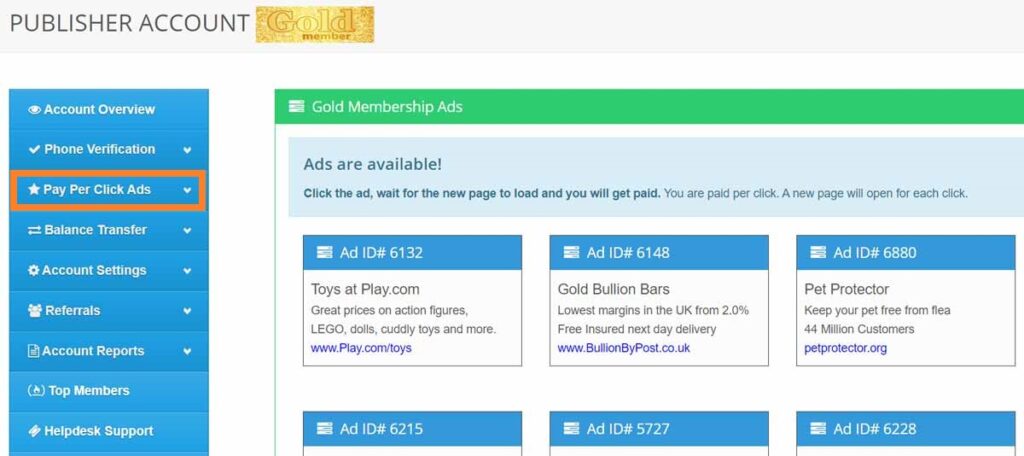 Then, you have to click on them and wait until it loads completely, one by one. You will get paid $0.01 for each ad you click if you're a Silver or Gold member and $0.02 if you're on a Platinum member.
Does Star-Clicks sound right for you?
There are 3 monthly memberships available in Star-Clicks – Silver, Gold, and Platinum.
"But, why do I've to invest money to earn money?" – you may ask.
Yes, it's true that you have to invest some amount to increase your earnings. The reasons are as follows
In the silver membership, you have very limited earnings although the CPC (Cost Per Click) rate is much higher. So, by upgrading you can unlock the true earning potential.
Moreover, you get access to HTML code ads which you can use to make more money (more than $3 daily for Gold Membership).
Besides, you can earn a 25% higher referral commission.
When you upgrade your membership, you tend to complete your daily quota of ads given to you than if you're on a free package.
You can find the details of various memberships below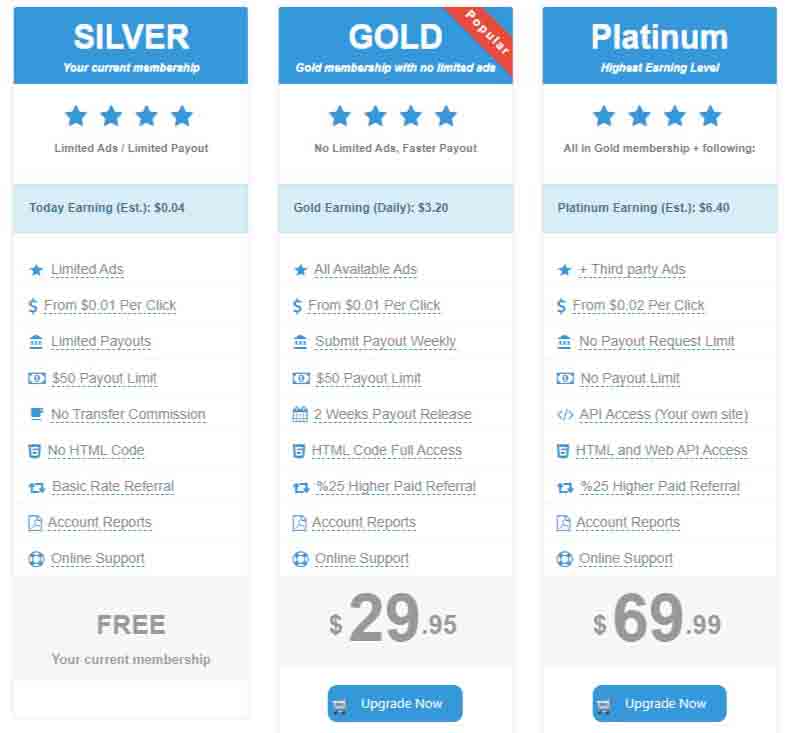 Thus, you can earn way more than what you spend!! Hence, in the long run, it's going to help you to earn even more. However, the daily earnings subject to change considering the availability of ads.
Does Star-Clicks sound right for you?
How to Upgrade Your Account?
You may have observed that you can earn a minimal amount with the free (Silver) membership (4- 12 ads/day, i.e. only $0.04-$0.12/day). So that's not a good earning, right? But by upgrading to a Gold Account, you can earn $0.70-$1.40 just by clicking ads!
So, to unlock the true earning potential and upgrade, follow the steps below. First, log in to the account, and click Upgrade.

Now, select the membership, and complete the payment by clicking Upgrade Now. You can pay via Debit/Credit card, PayPal, or even Bitcoin. However, Platinum membership may not be available in some countries.
Moreover, please note that the membership upgrades are available on the 'first-come, first-serve' basis. After a certain limit is reached, the upgrade is not possible on that day. You can try to upgrade the next day.
Does Star-Clicks sound right for you?
How to Use HTML Code Ads to Earn?
After upgrading, you will be provided with unique HTML codes. You can access it by clicking on any one of the marked places below.

Then, you will be prompted to the HTML Code Settings page where you can customize the ads.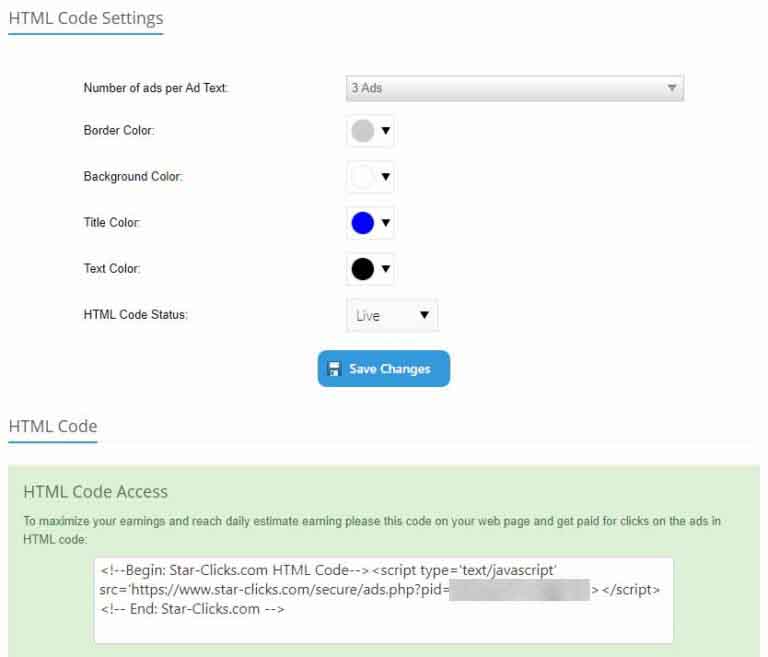 After you made all the changes, save them. Then, copy and paste the updated HTML code on your blog/website where you want the ads to appear. When someone clicks on ads there, you make money. However, if you don't have any, you can easily create one for free on sites like Wix, Weebly, or Blogger.
Does Star-Clicks sound right for you?
What are Money Withdrawal Methods?
You can withdraw money from Star-Clicks via
PayPal (most popular)
Bitcoin
Bank Transfer
Western Union
The payment threshold limit for withdrawal is $50 for Silver members.
To add a payment method, click on Account Settings on the dashboard. Then, hit the My Settings option from the drop-down. Head over to the Payout Settings tab. Then add your PayPal email address or Bitcoin wallet address(anyone), and hit Save Changes.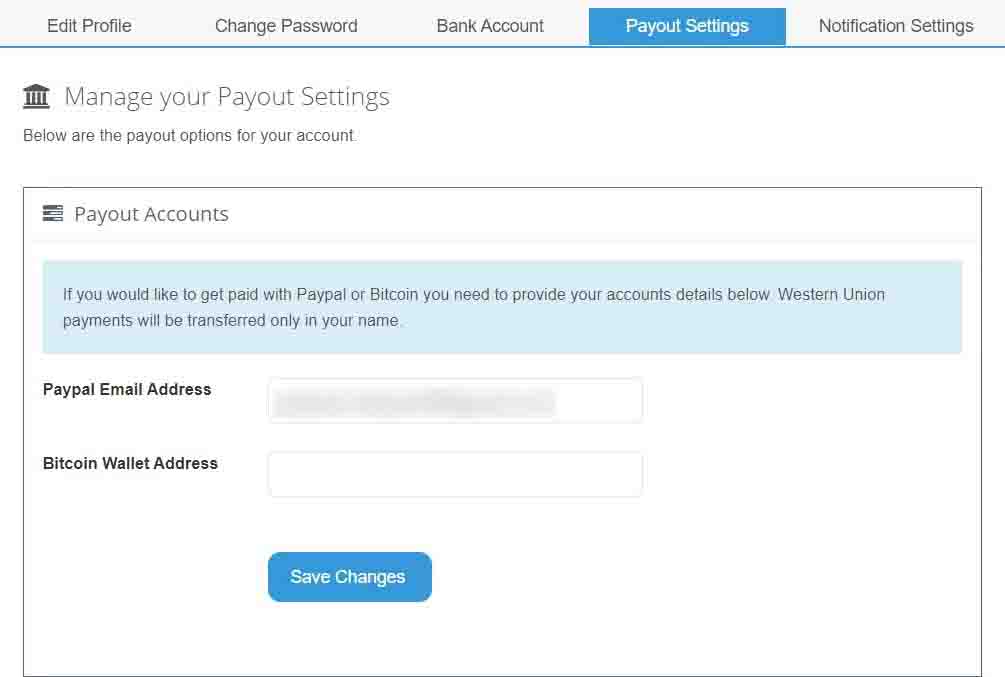 However, the easiest way to withdraw money is to activate Auto Payouts. To do so, scroll down and enable Auto Payout Status and select the Auto Payout Method. Then hit Save Changes. You can also add a bank account to withdraw.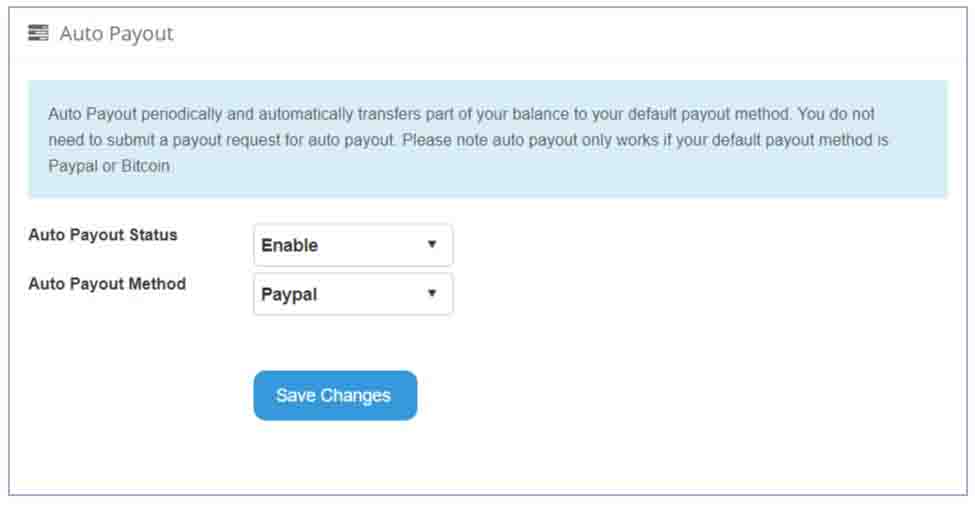 Does Star-Clicks sound right for you?
Frequently Asked Questions
Is Star-Clicks legit or scam?
Star-Clicks.com is a legit business since 2008, the business is verified by different authorities and vendors, such as Verisign, Norton Trust, UKTrustSeal, and UK Companies House. You can find the links to these vendors on the site.
How much can I earn by upgrading?
You can earn $0.70-$1.40 daily depending upon the availability of the ads just by clicking ads. Moreover, you can earn more than $3 daily by placing HTML code ads on your website/blog(if you have any).
Can I upgrade my account using my wallet's balance?
Yes, you can.
Do I receive fixed number of ads every day after upgradation?
You will get a different number of ads in both the PPC and HTML code section of your account based on the availability of the ads. You are provided ads to reach the daily estimate displayed in your account.
Final Words
Star-Clicks is a great platform especially for beginners to make some money. You can continue with the Silver one if you are a beginner. Else, it's highly recommended to upgrade your membership to maximize your earnings. Moreover, you can use your earned bucks to purchase a membership once you reach the stipulated amount. If you never earned online, then there can't be any better beginner-friendly method than Star-Clicks.
"If you cannot do great things, do small things in a great way"

— Napoleon Hill
Because doing anything is way greater than doing nothing!! So, what are you waiting for? Go, create an account, and earn some starter money.
If you liked the article, please do share it.
Does Star-Clicks sound right for you?