---
Quick Summary
Pros
Legitimate method.
No limitation on earning.
One of the easiest methods, just share shortened link.
Beginner friendly method.
No tech skill needed.
Very low minimum payout limit (only $2).
Earn 50% of your referrals' earnings for lifetime.
Various payout methods including PayPal, Bitcoin and Bank Transfer.
Cons
Links can't be shared on Facebook.
CPM (Revenue per click) rate is quite low in some countries.
Shortened links must to be proactively shared over the web in order to get clicks.
Does Za.gl sound right for you?
---
Do you share links online every now and then? Want to earn money by just sharing a link online? Do you want to earn $1000+ per month? [Yes, you heard right, no hoax or scam!!] If your answer is yes, this article is precisely for you!
And if you've never made money online, this article is going to help you make your very first buck. With this method, you can make money even as a beginner starting from scratch with the provided strategy. But you must be willing to learn. And surely, you don't have to be an expert. You can earn money by just sharing links online (which is something we all do). Feeling interested? Keep reading ahead…
You can also watch the video below
Does Za.gl sound right for you?
What is Za.gl?
Za.gl is primarily a URL shortener. A URL shortener is a simple tool that captures a long, complicated URL and crushes it down, compacts it into a simple short neat link for you to share.
Obviously, there are several ways of doing the job of URL shortening. Za.gl does the same task with a twist. It will insert advertisements into your link whenever you use their service to compress a long URL.
How to Sign Up for Za.gl and Earn Money?
If you want to earn money whenever you share any links online, it's time to sign up for Za.gl while it's absolutely FREE to signup.
When it's free to sign up, most people simply decide to sign up without taking any further action to improve their earnings. Don't do that! Proactively share your links online to maximize your earnings. Share your links on Twitter, Reddit, Quora, social groups, online communities wherever there is an opportunity to get clicks.
Just follow the given steps:

Does Za.gl sound right for you?
Exploring The Dashboard
Once you successfully sign up, you'll be able to log into your Za.gl dashboard from where you can manage your complete account. Right on the dashboard, you'll find the URL shortening box which you can use to shorten your favorite links effectively for sharing. You'll also get your earning statistics right from the dashboard.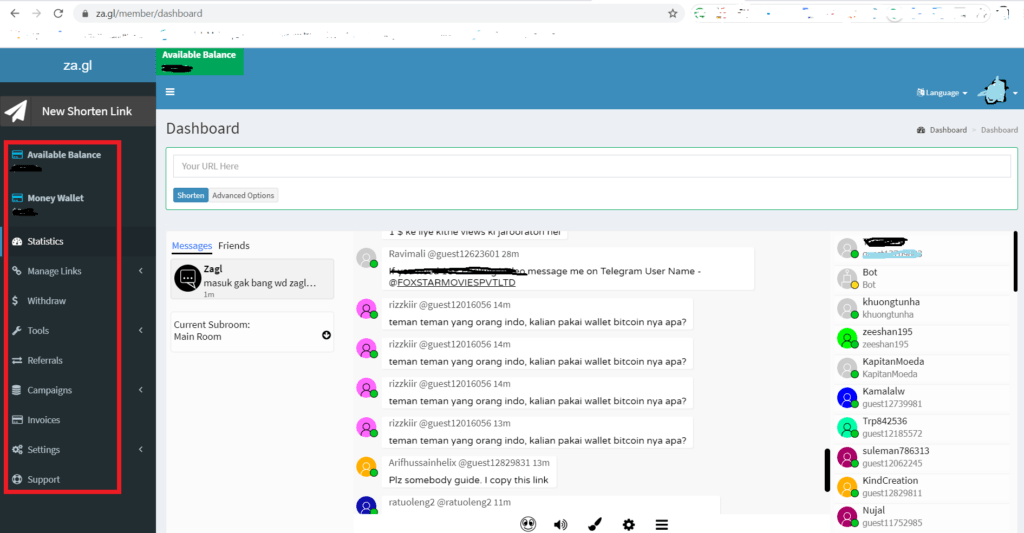 You can earn as much as $100 for every 10000 visits to your link!! They've upgraded their CPM system to make it easy for users to earn a decent amount. Their AI system always delivers the best ads for users.
There's a specific section for all important announcements. There is a chatbox that helps you get connected with other members right from your dashboard.
Payout Rates
The payout rates are quite attractive and, you can earn an ample amount if you are proactively sharing the shortened Za.gl links. The following table will give you a detailed illustration:

As you can see in the table above, you get more money while you get more clicks on your links. To get the first payout, you need at least 100 clicks as their minimum withdrawal amount is $2.
Please note that all clicks may not be counted as valid clicks. They have certain criteria to qualify for a click or a visit.
Visitors must have JavaScript enabled.
They must have Cookies enabled.
Visitors must view the ad for 5 seconds.
The visit must be unique in 24 hours.
However, it can be assumed that almost 97% of clicks are valid clicks or visits. Around 3% of clicks or visits may be ignored for not qualifying.
Please understand that you may get more than one view for every click as more than one ad is shown most of the time, for each click. Also note that every click must be unique, meaning that if the same person clicks your link 2 or 3 times a day, it will be counted as only a single click.
Does Za.gl sound right for you?
Payment Methods
Za.gl can pay you with many different types of methods. Apart from Paypal, you can get paid with any of the following methods: Payza, Skrill, WebMoney, Bitcoin, Bank Transfer, etc. To withdraw your earnings, the minimum amount of money you will need to earn is only $2. So you need only around 100 to 120 clicks.
Strategy for $1000+ Per Month
You can potentially make $1000+ per month with Za.gl. It's possible because of their attractive referral building program. At Za.gl, you earn 50% of your referrals' earnings for life, which is a game-changer! Because there is no limit on how many members you can refer to Za.gl service.
Every time one of your referrals gets $2, you get $1. It's that simple. To make $1000 per month, you need only 100 referrals, each earning $20 per month. As a result, you can earn $1000 every month.
A quick illustration is given below:

So, basically, you need to refer people to use their service. The people you refer to will get new opportunities to make money, and you earn without any additional cost to your referrals. Thus, it's a win-win situation for both of you.
So what are you waiting for? Sign Up Today for Za.gl and start sharing your favorite links. And of course, don't forget to refer to others.
Does Za.gl sound right for you?
Frequently Asked Questions
What is Za.gl?
Za.gl is basically a URL shortening service that inserts advertisements within shortened links. You can share these links online and make money whenever someone clicks on these shortened links.
Is Za.gl Real or Fake?
This is a 100% real and genuine website paying its users since its inception. Their minimum withdrawal amount is only $2 (making it stand out from other money-making websites) and you can get paid by PayPal, Payza, Skrill, WebMoney, Bitcoin, Bank Transfer Payment methods.
How Does It Work?
It's a URL shortener that compresses long URLs and makes it small while inserting ads into your link. You get paid when you share these links online and someone clicks. The visitors see ads and you get a portion of the earnings from Za.gl.
How Much Does It Pay?
You can earn as much as $160 for 10000 visits to your shortened links through Za.gl shortener. But my experience says that you mostly earn around $100 for 10000 clicks or visits.
Where to Share Za.gl Links?
The shortened links can be shared anywhere online. Some of the most prominent places would be Twitter, Reddit, Quora, Forums, Online communities, or any other places where there is a chance to get clicks.
What is the Minimum Withdrawal Amount?
The minimum amount you will need to earn before you can get paid is only $2. So you can use this service to make money and actually get paid even if you've never earned online before.
Is There a Referral Program?
Za.gl has a wonderful referral program that pays as much as 50% of your referrals earnings to you for life. I believe you can make more money by just promoting it, instead of sharing the shortened links.
Who Can Earn with Za.gl?
Anyone with a desire to earn money online can use Za.gl to start earning. However, if you've never made money online, you should really try the service. It's free to sign up and start earning.
Final Words
So my final words are: Go ahead and Sign Up Today & Start Making Money. If you are someone who always shares links online, there cannot be a better way to make money than with Za.gl! All you need do to take action and make some real money!! Remember that it always seems impossible until it is done.
Does Za.gl sound right for you?