---
Quick Summary
Pros
Legitimate method.
No limitation on earning.
One of the easiest methods.
Beginner-friendly method.
No tech skill is needed.
Low minimum payout limit (only $10).
Questions can be asked on anything.
Cons
The program is invitation-only.
Pay per question is quite low on average.
Only PayPal & Stripe available as payout methods.
Not available in every country.
One question earns for only one year
---
If you are reading this post, I'm damn sure that you've come across Quora through Google search, or you're already using it like other social platforms.
Quora is a popular question-answer website, where can ask anything and get answered, or provide answers yourself to others question. But what if you can earn money from it, that too just by asking questions?!
Yes, you read that right. You can earn money directly from Quora using Quora Partner Program. If you're a creative person and love asking simple or complicated questions whether they're smart or dumb or enthusiastic, the Quora Partner Program is definitely for you. Feeling interested? Keep reading ahead.
What is QPP?
Quora Partner Program abbreviated as QPP is a program that rewards its users for asking valuable questions. In other words, users (partners) are paid, if the asked questions drive traffic into Quora (internally or externally) and generate revenue from the ads placed with the questions.
Under the program, Quora shares with the partners a little bit of ad revenue generated from the questions they asked. In a nutshell, the rewards are based on how successful the question is in generating revenue for Quora!!
How to join the QPP?
The program is invitation-only. So, you cannot join this program if you wish. Quora moderators invite random users around the globe to test out their new experiment for content creation!! And the most surprising part is that they can invite any user to join this program randomly.
While many people believed that you have to a long-term active user on Quora to get the invitation, there have been cases of new users getting the invitation. So, it's not really about who deserves to be invited but rather a random invitation from a pile of millions of users. You would just have to be the lucky winner.
So, constantly check your email. Who knows you may be the next lucky one.
However, please note that QPP is currently available in the US, Indonesia, Japan, Spain, France, UK, Italy, Germany, Canada, Australia, India, and Brazil.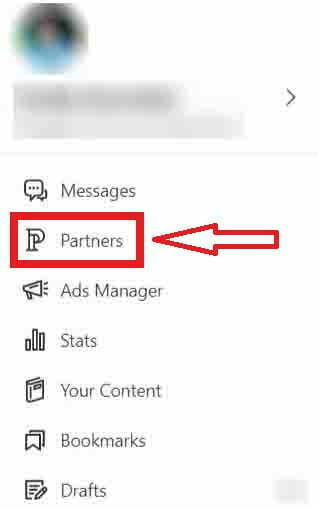 After you got the invitation, you can find a new tab as shown above. Now, all you have to do is to ask questions. There is no limit on how many questions you can ask daily. But beware of spamming!!
QPP Earning potential
Since there is no limit on how many questions you can ask daily, technically there is no limit on your earnings too. However, your account is likely to be banned for asking more than 3000 questions a week!! You need to be a little careful about this. Hence, you can earn as much you want as long as your questions are performing.
Here's a snapshot of the earnings of the Top-Earning Partners.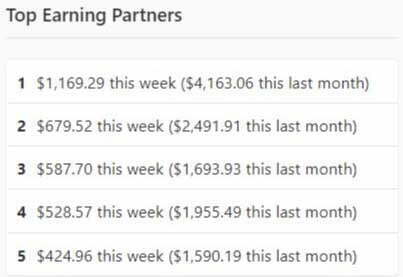 How long can you earn from any question?
After adding a question, you will be paid only for the question you asked (not for anonymously asked questions). One question can help you to generate revenue for up to 1 year only. You will not be paid after one year or make it a lifetime earning source. However, you will not get paid for the answers you provide to the questions.
If you ask similar questions, your question will be merged with other related questions, and you won't earn from those questions. So, keep in mind to ask unique questions. If you ask an irrelevant question or violate any policy your question will be removed and you may get a notice.
Earning withdrawal methods
To receive your earnings from Quora Partner Program, you need to connect (after you make $5) either your Stripe account (for US partners) or PayPal account (for non-US partners) with Quora. There is no other way to receive earnings. However, you have to earn at least $10 to get paid. After you've reached the threshold amount, your earned money will be summed up and sent to your account on the first Monday of the next month.
Pro tips to maximize earnings
Quora's ad revenue from a specific question depends on the views and engagement the question gets either from Quora's internal traffic or from external traffic (search engine like Google). And ad impressions generally depend upon these factors, which ultimately responsible for the ad revenue. So, you can use the following tips to maximize your earnings.
1. Ask questions on the trending topics.
2. Ask unique questions (not asked before) only.
3. Use Google trends to analyze and find out trending keywords and phrase questions using those keywords. Thus, your question will get external traffic.
4. Ask questions that are appealing to the Quora community to answer (doing so can make your question go viral within Quora).
5. Use various brand names in your questions or ask questions around various brands especially those that are trending prior to a new product/service launch.
6. Ask questions on current affairs and useful discussions.
7. Ask questions that ask the Views & Preferences of Quorans (very popular).
8. From the Partner Program dashboard, you can find the Questions Value Insight tab, where you can find which type of questions are performing well in terms of earnings and ask accordingly.
Final Words
I hope you have got a clear idea about QPP and how it works. Using these tips can hopefully improve your earnings. Although the QPP earnings got lowered in 2020 (according to many veteran Quorans like GV sir), it still lures many users towards the platform to get stuck in.
From my own experience, I can say that it ain't easy to earn $10 for an average Quoran. You need to ask at least 20-30 unique questions daily, that too after proper research. So, to make earn a significant amount, you must have to invest your time and put your efforts to maximize your earnings using those tips.