---
Quick Summary
Pros
Strong privacy and information security practices.
Large Geographical server location coverage.
Supports OpenVPN protocol across all platforms.
Customer service – Live Chat & 24/7.
Dedicated pre-configured VPN routers are available.
Simple interface.
Brilliant speed and performance.
Torrents and P2P file sharing on all servers.
Cons
Quite expensive compared to rival VPNs.
No/Limited ExpressVPN free trial.
Only 5 simultaneous connections.
Does ExpressVPN sound right for you?
---
Today's marketplace is now flooded with numerous VPN providers making it complicated for the consumers to decide which one fits all their needs and give the complete package of world-class service. And then there is the fact that they may be promoting themselves a bit more over their actual capacity.
Read More: What is a VPN and why VPN? Ins and Outs of VPN in 2021
Overview
ExpressVPN, an excellent market leader in the field of VPNs, has a globally wide distribution of servers to ensure and prioritize customer satisfaction without compromising quality encryption. Moreover, it has a hefty investment in creating and explaining how it operates a safe and secure company. While it has continued to improve the value of its services, it's still costly for what it offers to the average consumers.
Does ExpressVPN sound right for you?
Pricing
ExpressVPN has three subscription options: $12.95 billed each month, $59.95 billed every six months ($9.99 per month), and $99.95 billed annually ($8.32 per month). While $12.95 may seem a little steep to pay for a VPN, but if you opt to pay annually, the monthly premium gets dropped to $8.32, which is much more affordable.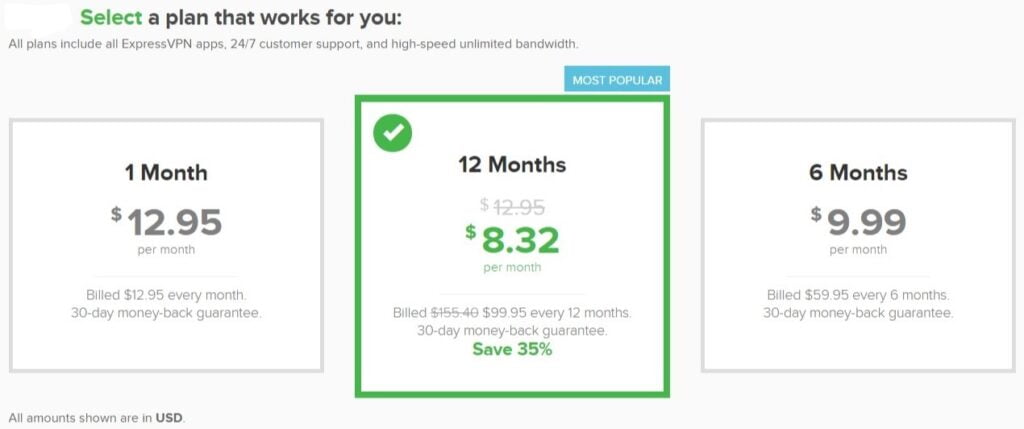 Like many VPNs, ExpressVPN also offers multiple payment methods like Credit/Debit cards, PayPal, and many more, including Bitcoin.
However, a 30-day money-back guarantee is included with every new purchase. If you're not satisfied with ExpressVPN, you'll receive your money back without any explanation.
Does ExpressVPN sound right for you?
Smart DNS
The Smart DNS feature lets the users the ability of geo-spoofing; this allows users to mask their location. This feature can be very convenient for web developers and testers, as well as for personal use.
Personal use can include the ability of U.K. Netflix users to access the U.S. Netflix, gaining you access to all the best shows. I tested this out and can confirm that YES it does work! Similarly, it allows U.S. users to access BBC iPlayer.
Smart DNS has more advanced features over a regular VPN, including:
Speed: Smart DNS is a lot faster as it doesn't need to use encryption/decryption.
Accessibility: It can be used on a variety of internet-capable devices, including Smart TVs.
However, be cautious; Smart DNS may lower your privacy and security. As an ExpressVPN customer, you can gain access to VPN and Smart DNS services.
Does ExpressVPN sound right for you?
VPN Protocols & Security
ExpressVPN supports OpenVPN UDP/TCP on Android, iOS, Linux, macOS, and Windows, including router configuration to use OpenVPN. As a high priority for the security of users, ExpressVPN uses the following OpenVPN encryption: AES-256 cipher with RSA-4096 handshake and SHA-512 HMAC hash authentication.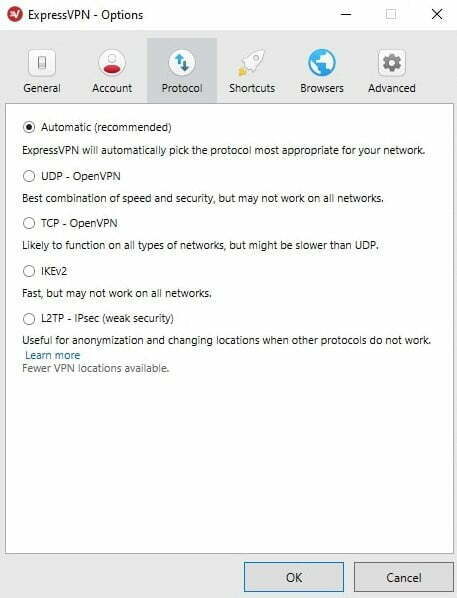 Besides, all of the DNS requests are made over IPv4 instead of the IPv6 protocol, which is less secure.
Does ExpressVPN sound right for you?
Privacy
When you use a VPN, you're entrusting it with access to your web traffic. If the VPN company lacks morals, it can easily monetize your personal information much the same way an ISP can. That is why it's crucial to read and understand a VPN's privacy policy.
Don't worry; I've read the fine print for you. I'm happy to say that ExpressVPN has made some pretty strong statements regarding the protection of consumer privacy, and securing its data and infrastructure.
The company says it stores no logs of user activity, originating IP address, the VPN IP you connect with, the session duration, or a connection timestamp. However, ExpressVPN makes it clear in its policy that it only generates revenue through the sale of VPN subscriptions.
ExpressVPN has its headquarters in the British Virgin Islands, which has no data retention laws. The company points out that any request for user information would have to be issued from a local court else the crime under investigation would be punishable by at least a year in prison in the British Virgin Islands.
ExpressVPN is one of the few companies to use RAM only servers. That means servers are completely rebuilt at reboot, removing any nasty software hiding inside making it tough to confiscate.
While I am satisfied with ExpressVPN's efforts to protect customer privacy, you may feel differently. If you don't feel you can trust a VPN, for any reason, I strongly suggest choosing a different service.
Does ExpressVPN sound right for you?
Servers and Server Locations
A larger portion of what you are paying for a VPN subscription is access to the company's fleet of VPN servers. These are the machines through which your web traffic will flow. Generally speaking, it's good to have a diverse distribution of servers because it gives you more options for spoofing your location.
ExpressVPN offers 160 server locations across 94 countries. Besides, ExpressVPN also excels in geographic diversity. ExpressVPN also maintains servers for some countries with repressive internet policies, including Turkey, and Vietnam.
ExpressVPN is transparent about its use of virtual servers. Virtual servers are configured to appear as if they are in a country other than where that physical hardware is located. An explanatory page says that less than 3% of servers are not physically located where they appear to be and lists their true location.
You wouldn't necessarily want a VPN server within a dangerous country, would you? ExpressVPN's Turkey, Venezuela, and Vietnam servers, for example, are all virtual; this sounds reasonable.
Does ExpressVPN sound right for you?
An everlasting concern with VPNs is that using one will slow your internet connection down. While it is true that using a VPN will increase latency and reduce upload and download speeds, it's usually a tolerable experience considering the security you're getting along with unlimited bandwidth.
To get a sense of the impact a VPN has on your internet experience, we tested the speed. Keep in mind that network connections are always fluctuating, and the chances are very high that your individual experience will differ from mine. Besides, the speed will also vary from server to server. So, think of these results as more of a snapshot for understanding, rather than a final verdict on performance.
Does ExpressVPN sound right for you?
I found ExpressVPN really easy to use for its user-friendly interface, even for beginners. The signup and installation process was quite simple. As soon as you have signed up and completed the payment, you can make your ExpressVPN download and then quickly make the installation.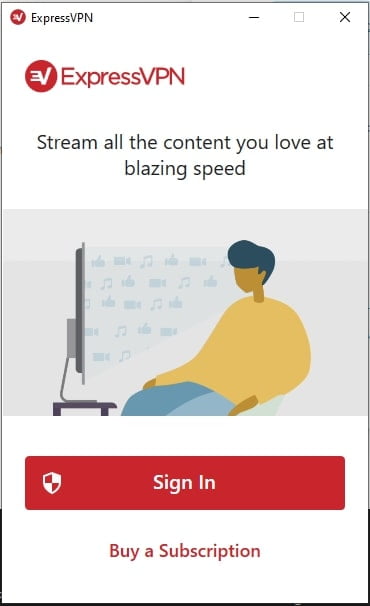 When you run it for the first time, you will be asked to sign in. Simply enter your details here, along with your activation code. Now, you're all set to get protected! You will find this activation code in your confirmation email. However, this process differs from device to device.
From this point, as soon as the app gets started, and you are ready to go. The app will detect your current location, offering you to connect to the BEST server available. The app begins protecting you with a single click.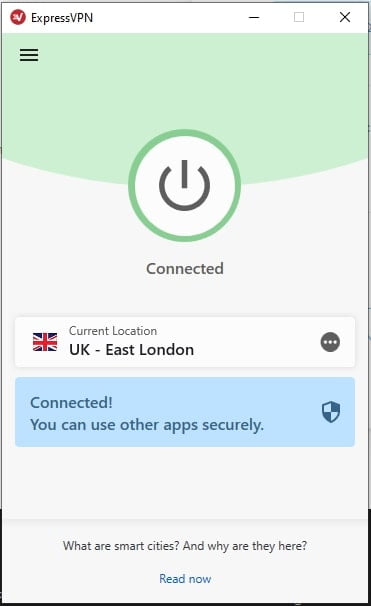 Once connected, the power icon will turn green and display as connected, you can change your location by clicking on the three dots on the current location button, where you'll find a list of locations.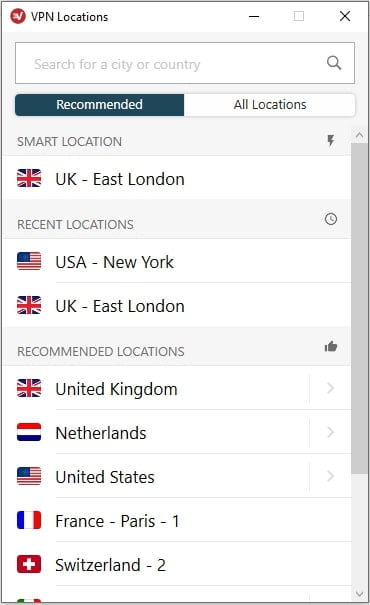 You can either scroll through the recommended locations or type your desired location into the search box. It can't be any simpler, even for beginners.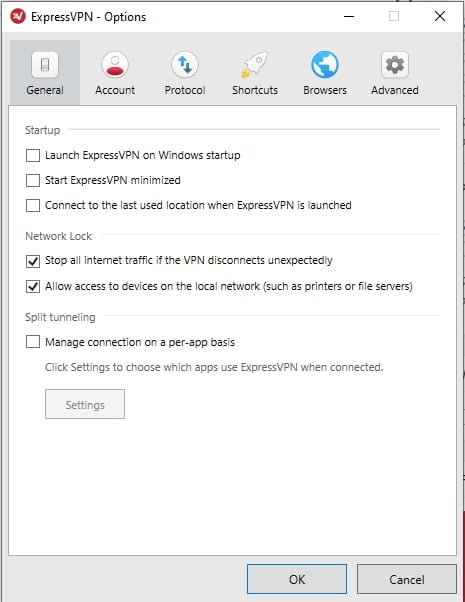 ExpressVPN provides bunches of options for you to use. The tabs are easy to navigate, and each option has a small description to describe its purpose, making it very useful and user-friendly! In short, ExpressVPN has simplified everything to the level where it is the most straightforward and most intuitive VPN app to use.
Does ExpressVPN sound right for you?
Supported Devices
This anonymous VPN supports many devices listed below.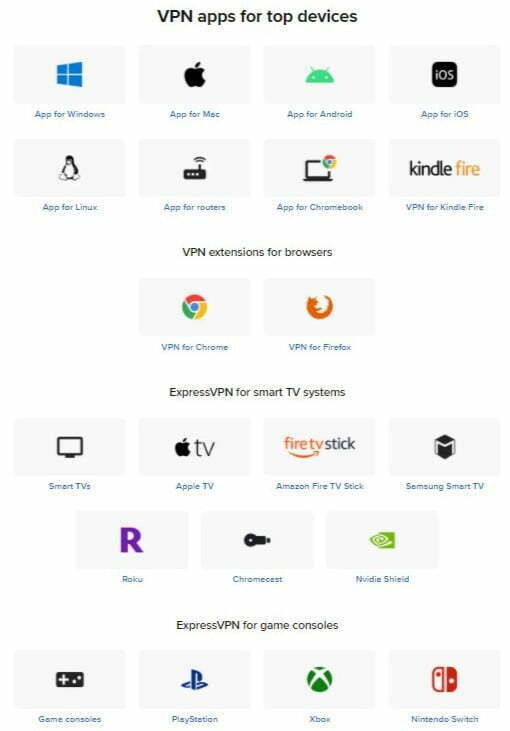 All mobile devices have the same simple set-up procedures. So no matter what type of device you use, you are met with the same interfaces. But, only 5 devices are supported simultaneously at one time. If you wish for another device, you have to disconnect one before adding the other manually. ExpressVPN can also be purchased on a pre-configured router.
Does ExpressVPN sound right for you?
Customer Support
ExpressVPN is widely known for its customer support. They offer 24/7/365 support via live chat or through support tickets.

Many of their staff members are technology experts, and those that aren't, are extremely quick to point you in the right direction to obtain the information you require.
Their website offers setup tutorials to walk you through the process, and plenty of troubleshooting guides if you run into any problems.
Does ExpressVPN sound right for you?
Can I Get ExpressVPN for Free?
Absolutely YES!! ExpressVPN awards 30 days of free service for every successful referral made by you. There are no limits to how many referrals you can make. You can try it too! Here's the quick video guide
Does ExpressVPN sound right for you?
Would We Recommend ExpressVPN?
ExpressVPN offers really a great affordable option for VPN services with world-class encryption and security. If you are dedicated to using a VPN service, you can go for ExpressVPN's annual plan, which will eventually reduce your monthly payments.
However, if things go wrong or it turns out you're not pleased with the product, there is a generous 30-day money-back guarantee. So, you won't feel tied in. This, for me, is a really BIG positive!
ExpressVPN's features are really top-notch. They may go a little overboard with their security, which can cause marginal performance differences. But we'd much prefer to have better security to protect us. With mobile apps and compatibility, ExpressVPN is a perfect choice if you have multiple devices.
We tested features, such as Smart DNS to find if we could access the variety of TV shows on Netflix, and it worked! Again, this is a big tick in the box because I love being able to access new shows and movies. Express VPN is super simple to use and highly reliable; their customer support system is unbeaten, and rightly so.
ExpressVPN offers server locations in 94 countries, with unlimited speed and bandwidth, we are proud to announce that ExpressVPN boldly claims to hit the mark and do what they say. I would HIGHLY recommend signing up for ExpessVPN today.
Does ExpressVPN sound right for you?